I've spent the past week traveling across the South, mostly to places that I've never been before. The riding has been mostly beautiful and I've connected with a couple of new hostels.
Highlights
Tail of the Dragon
In Asheville there was another biker staying at my hostel. He told me I needed to check out a road called Tail of the Dragon. I looked it up online and to my surprise the road has its own website. Turns out the road is quite famous with motorcyclists and also sports car drivers. The road's claim to fame is its 318 curves in an 11 mile span.
The path from Asheville to the Tail of the Dragon was a beautiful drive on the Great Smoky Mountains Expressway. The road went over the mountains with long, wide curves.
I could tell I was approaching the Tail of the Dragon when I started to see many motorcycle related businesses. There were multiple bars and restaurants with "welcome bikers!" signs. There were gas stations advertising fuel without ethanol. I saw a campground called the Kickstand Lodge. When I eventually arrived at the start of the Tail of the Dragon I pulled over to take some pictures in front of the dragon statue. I bought a couple of souvenir stickers, nervous that I was jynxing myself by buying a sticker that says "I survived the tail of the dragon" BEFORE actually driving on it. My biggest fears came after checking out the Wall of Woe. Here they had heaps of photos of people who did not quite survive the tail of the Dragon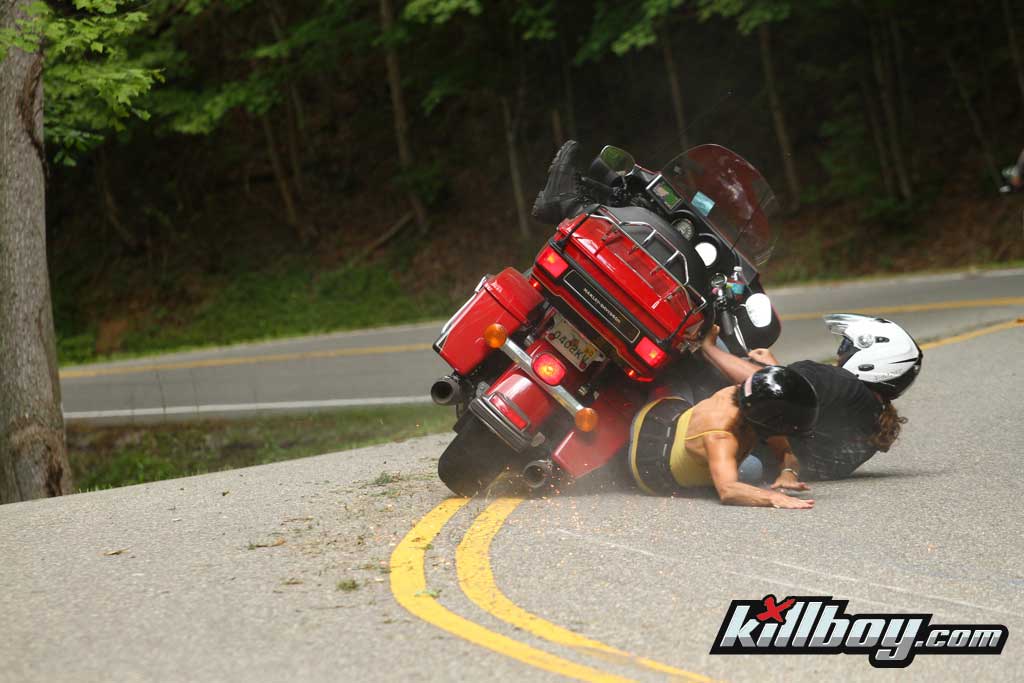 Having the fear put into me, it was time to actually ride the Tail of the Dragon. Within a few minutes of leaving the gift shop I was shifting down to first gear and taking the tight curves nice and slow. The road was still damp from rain and to make matters worse there were dead leaves on the road. Slow and steady was my mantra. Crashing a bike is always bad. Crashing a bike in rural North Carolina would be the worst.
Eventually I made it safely through the 11 miles. I had thought about riding through a few times so I could get more comfortable but I decided not to push my luck and just continue on my way to Chattanooga.
Natchez Trace Parkway
At my hostel in Nashville once again I shared a room with another motorcycle rider. He also recommended a great road. He suggested that I take the Natchez Trace Parkway. This road has been my favorite of the trip so far. It's only one lane in each direction. There are no stop signs, red lights, or driveways. It's just hundreds of miles of beautiful scenery, gentle curves, smooth pavement, and hardly any other cars.
The road was so empty that I managed to get Ruby Tuesday up to 100 miles an hour. It's amazing what a motorcycle the V Strom is. At 100 mph most cars would be shaking. Ruby is in top gear humming along at 7,000 RPM. The red line is at 13,000 which means Ruby has even more punch in her, but I'm not suicidal so I didn't dare push it any faster.
Friday night on Bourbon Street
Most of the hostels that I stayed at were for outdoorsy adventures. Chattanooga is a huge rock climbing destination. Asheville has lot of hiking. I was excited when I arrived in New Orleans on Friday night and checked into Auberge NOLA to socialize with other people. At 8 PM everyone gathered in the common room and we played drinking games, sang songs, and then headed out to the bars on Bourbon Street. After the rough day of riding I had it was the perfect way to end the week.
Lowlights
The drive through Mississippi
Friday was a bad day of riding. I started out in Northern Mississippi going through the Delta. It was full of wide open farmland and the strong gusts of wind were pushing Ruby Tuesday left and right. I've said that I would never need the V Strom 1000 because the 650 has more than enough power to get me in trouble. On Friday I would have been grateful for the extra weight of the Vstrom 1000 against the wind.
Besides the wind blowing me around, there's also just nothing much to look at in Mississippi besides prisons, Dollar Generals, and really poor people. It's pretty sad to see the way people have to live in some parts of the country. It makes the income inequality in America really visual.
After I was done driving the state roads through the Delta I got on the Interstate and it got even worse. It started pouring down rain. I had the awful combination of rain and very little daylight, making for a scary and uncomfortable couple of hours.
It was a really crappy situation to be in because I knew that I had a warm bed with my name on it waiting for me in New Orleans and that it would be a fun night. But, I had to get there, and the roads were extra dangerous. My only other option was to pull off the interstate and get a motel room for the night. Pay an extra $80 and spend a miserable, rainy night by myself in Mississippi or keep chugging through to New Orleans? It was an easy choice for me, but still, a big risk. I could have easily crashed in the rain. In fact, I almost did when my front wheel slipped on one of those little plastic reflectors embedded into the road between the two lanes. A night at a motel room or a motorcycle wreck on the freeway? An easy choice as well.
The psychology of riding a motorcycle is interesting. When I pulled into a parking spot in front of the hostel in New Orleans I felt so happy and relieved that the drive was safely over. It was such a positive, uplifting feeling. But, at the same time, my discomfort was self inflicted. I chose to ride a motorcycle across the country. I chose to continue in the rain. What does it mean when you voluntarily make your life more difficult and then feel happy to overcome your self-imposed obstacles?
Hattie B's Hot Chicken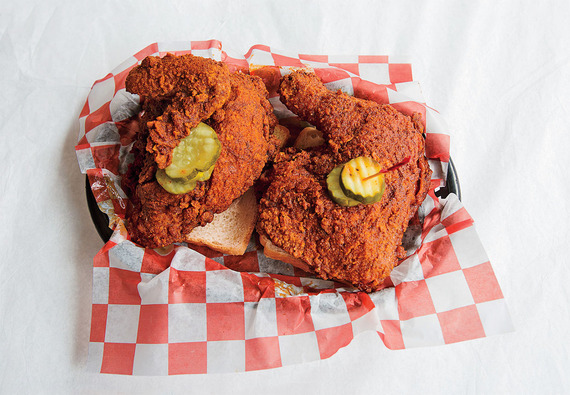 I was hungry in Nashville and looking at Google Maps when I discovered a famous fried chicken place called Hattie B's It had 3,780 reviews on Google Maps and an average of 4.6 stars. The place had "hot chicken." Perfect. Well rated, close by, reasonably priced, an authentic Southern classic, AND it's spicy. What more could I want? I got to Hattie B's and there was a line out the door. While standing on line I had to decide what level of heat I was going to order. I had a look around the restaurant. It was full of white people. Most of them seemed to be tourists who probably saw the restaurant on HGTV or something. I decided to go with the spiciest level, Shut the Cluck Up. I had a look at my fried chicken. It was a dark red and crispy. I started tucking into it and immediately my nose turned into a faucet, I started coughing, and it felt like steam was coming out of my ears. I got about half way into my dinner when my stomach turned into a knot. My mouth was powering through the spice, with some assistance from the Diet Coke soda fountain, but my stomach was calling out for help. Was I about to vommit in the restaurant from eating too much spice? It honestly felt that way for a moment. I decided to pack up my leftovers and head back to the hostel ASAP. When I returned the feeling subsided. However, the following morning I woke up to terrible stomach pains. I'm supposed to get on a motorcycle and ride through rural Tennessee today. This isn't good. It looked like I might be stuck in Nashville another night, where I had a comfortable bed to assume the fetal position, and a toilet only a few feet away.
Eventually I felt good enough to stand back up and start packing my bags. In the 30 minutes it took me to get ready the stomach pains didn't return, so I assumed the chicken, marinaded in habanero peppers, ghost peppers, and scorpion peppers, had made it through my digestive system. I took some anti-diarrhea medicine so that I wouldn't risk having to pull over in the woods and starting a forest fire and then I hit the road.
Hattie B's humbled me. I've traveled around the world ordering the spiciest foods I can get my hands on and Hattie B's is the first one to break me. This food was so spicy I felt it when I peed. I didn't even know that was physiologically possible.
Road Log
Week One: Madison CT, to Asheville, NC. Approximately 815 miles.
Week Two: Asheville, NC to New Orleans, LA. Approximately 1,060 miles.
Approximately 1,815 miles to San Diego. Estimated arrival: 2 weeks.